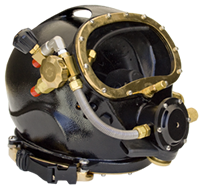 The rugged design and quality construction of Miller Diving® Helmets result in a lifetime of service with minimal maintenance. The Series 400 Helmet provides maximum head protection, excellent mobility, and balance. The helmet moves with a diver's head as easily as a mask. It is secured with an internal adjustable, padded neck strap and fits all head sizes.
All the helmet shells are solid cast bronze. The standard Miller Diving® hat is covered with a black epoxy coating (shown on previous page). The finished helmet weighs approximately 27 lbs. and is neutrally buoyant.
All Miller Diving® 400 helmets shipped after October of 2000 will include a Emergency Bail-Out valve as standard. The communication system consists of binding posts, microphone, and two earphone speakers.
The chin strap provides more comfort and improves diver safety. The chin strap works with the head harness, oral nasal, and face seal. A jam proof locking neckring adjusts at the helmet's base for an effective water tight seal. The neckring easily mounts on most dry suits. Two adjustable exhausts, one on the helmet and one on the regulator. Compressed air, mixed gas, and saturation capability.